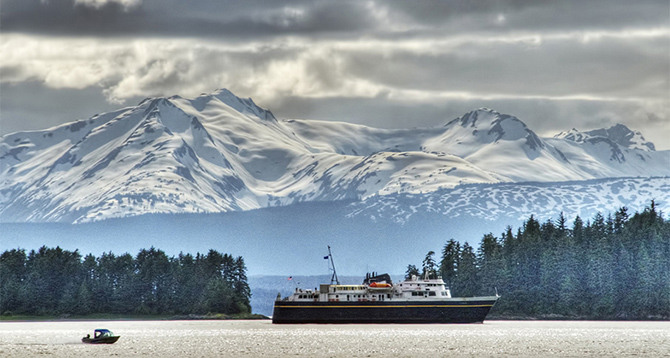 Icy Strait Point, Alaska
Down the road from Alaska's largest Tlingit village exists a uniquely Alaskan place — lcy Strait Point. It's just 22 miles southeast of Glacier Bay National Park and it's the only wilderness port in Alaska. The area has been the homeland to the Huna Tlingit Natives for thousands of years. It's beauty, grandeur, history and people offer you a glimpse into the real Alaska. Decades ago, Icy Strait Point was the home of one of the world's most productive salmon canneries. Today, it's a living testament to the past. Beautifully restored, the Icy Strait Point Cannery reopened in 2004. Its halls are filled with unique family-owned shops, a museum, and a mid-1930's cannery line display. Discover an industry's past at the Icy Strait Point Cannery today.

The creation of Alaska's newest cruise port, Icy Strait, represents a win-win collaboration between local communities and the giant cruise corporations who make big profits from visitors eager to experience America's "last wilderness."

The new facility has been a lifeline for a community in crisis, providing a much-needed alternative source of income for locals afflicted by a downturn in their traditional businesses of fishing and logging. Millions of dollars have been invested in creating a facility that offers cruise travelers an authentic "wilderness experience" and a refreshingly non-commercialized alternative to the usual run of Juneau, Ketchikan, Skagway and Sitka.

What they've created is an attractive new destination expressly for cruisers that's man-made but not commercialized. Icy Strait offers pretty woodland walks, an insight into Tlingit history and culture, a wide range of back-to-nature adventures, and good-quality restaurants. Up-market craft shops feature artisan crafts and locally made goods like woodland berry jam and confectionery, rather than the "made in Taiwan" tat so prevalent in, say, Juneau. Buildings are constructed from sustainable local woods and were built by local Tlingit Indian workers in traditional style.

During its first full season in summer 2004, Icy Strait attracted 36 cruise ship calls from Royal Caribbean and its up-market subsidiary Celebrity Cruises. In 2006, Holland America Line will join RCCL and Celebrity in adding the port to its schedules. But the Tlingit corporation Huna Totem - which owns the majority share of Icy Strait Point - has wisely decided not to go overboard on cruise calls, confining the port's infrastructure to handling one ship a day.
Things to do
There's so much to do. See whales, brown bears, eagles. Visit old growth forests or walk the beach. Go salmon fishing. Enjoy a salmon burger. Tour the Village of Hoonah. Go on a bike trek, ATV expedition or a hike. Stroll through the historic salmon cannery and museum. Experience the Tlingit dancers and tribal stories. Go shopping. Take a breath, sit down and get ready to start it all over again. At Icy Strait Point, the options never end.

Are you ready for an adventure? There are more than a dozen ways to experience Icy Strait Point. Get out in nature, view Glacier Bay from the air, cruise with the whales, search for brown bears, listen to Tlingit Native stories and experience Tlingit culture, book a fishing excursion, watch the wildlife, or do it all. At Icy Strait Point there is an excursion for everyone.

Icy Strait provides a pleasant experience for cruise passengers who want to explore the Alaskan backcountry. Spend an hour at the Native Heritage Center Theater, watching traditionally costumed members of the Huna Tlingit Dancers troupe enact their tribal story through song, dance and storytelling.

Even if you don't want to see this, take a stroll over to the center anyway; its elaborately carved totem poles are well worth a closer look. So, too, is the free-to-enter Cannery Museum, which is crammed with various historic bits of fish-processing paraphernalia. The best way to make sense of the various machines is to take a Historical Cannery Tour on which you'll be given a souvenir timecard before donning a fish-cutter apron and starting a factory worker's "shift" - which will teach you every stage of the canning process, including can-testing and filling.

More interesting are the "Fascinating Alaska Facts" cunningly concealed behind wall-mounted, "Alice in Wonderland"-style wooden doors. Did you know Alaska's longest day starts on May 10 and lasts three months, while its longest night starts on November 18 and lasts two months? You may discover too that Alaska boasts 52 percent of the world's earthquakes, 100,000 glaciers and 29 volcanoes.

The 2 1/2-hour Remote Bush Exploration and Wildlife Search, led by a native guide, gives you far more of an insight into the wit, wisdom and forest lore of the Tlingits than any number of heritage floor shows. Tours are escorted by guides from the Tlingit Eagle Clan who makes their living from fishing and logging - unless a cruise ship is in town. Past Frederick's Bay, watch out for whales, harbor seals, sea otters and bald eagles as well as for four types of the Alaska salmon which together with crab, halibut and black cod formed the mainstay of the Tlingit community's fishing industry when the Hoonah Trading Company cannery was founded in 1893. Try huckleberries, salmonberries and thimbleberries and discover the differences between deer and bear trails.