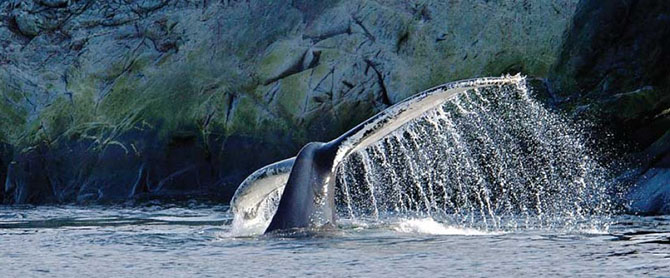 Haines, Alaska
Haines, which includes the area known as Fort Wm. H. Seward, is situated at the upper end of the Inside Passage, 14 miles south of Skagway and 80 miles north of Juneau. Surrounded by snowcapped mountains, lush meadows and forests, the area is one of the most scenic in all of Alaska. Population 2800. Haines can be reached via the 159-mile Haines Highway branching from the Alaska Highway 100 miles north of Whitehorse at Haines Junction. The Haines highway was built in 1943 and is now one of Alaska's best and most scenic highways. The town is served by the Alaska Marine Highway System as well as via scheduled air and bus transportation. Across the waters of the Chilkat River is Pyramid Harbor and the start of the Dalton Trail — one of the routes to the gold fields of the Klondike. This trail was developed by the Chilkat Indians for the purpose of trading in the interior and was improved in the late 1880's by Jack Dalton. The Haines Visitor Bureau and the City of Haines operates a Visitor Bureau - the center offers statewide travel information. Explore Alaska with our
driving tour
or
rail/drive expedition
, both highlighting the allure of Haines. Whether by road or rail/road combo tour, discover the breathtaking beauty of Alaska with seamless
itineraries
that showcase the stunning landscapes, wildlife, and cultural heritage of this picturesque region.
History
Early in November 1879, a canoe slipped into the mouth of the Chilkat Inlet carrying S. Hall Young, an early Presbyterian missionary, and his naturalist friend, John Muir. Young told the Chilkats of his intention to build a new Christian town between two waterways, the Chilkat River and the Lynn Canal. By 1881 the mission had been fully established. In the early 1900's, the government built a permanent Army post here known as Fort William H. Seward, which was later renamed Chilkoot Barracks. The post was abandoned in 1946 and sold as surplus property to a group of veterans who established it as Port Chilkoot. In 1970 the area became part of the City of Haines and when the fort became a national historic site in 1972, the name was changed back to Fort Wm. H. Seward.
Camping
Chilkoot Lake State Recreation Site (10 miles north of Haines. Follow Lutak Road for 5 miles past the ferry terminal) 32 campsites, well water, toilets, picnic shelter, boat launch. Fee area. Good year-round Dolly Varden fishing in Chilkoot Lake and River; silver and pink salmon, August and September. Portage Cove State Recreation Site 1 mile south of Haines on Beach Road with 9 tent campsites, picnic area, water, toilets - great fishing. For bikers and backpackers only.
Things to do
Alaska Chilkat Bald Eagle Preserve can be found below Klukwan on the Chilkat River flats (mile 18 to 24 on the Haines Highway). This area is called the "Council Grounds" because of its large congregation of eagles. The 48,000 acre Alaska Chilkat Bald Eagle Preserve which was established to protect and perpetuate the world's largest concentration of Bald Eagles and their critical habitat. For more information contact Alaska State Parks, 907-465-4563. Alaska Indian Arts Center, open from 9am to 5pm Monday through Friday, features carvers and artisans making totem poles, masks, ceremonial blankets, rattles, dishes, war clubs, and the like. The Center is in the former U.S. Army post hospital in Fort Wm. H. Seward.

American Bald Eagle Foundation Interpretive Center explains how the bald eagle interacts with its environment. There are many exhibits including mounted eagles, mammals, fish and wildlife. Admission - open daily from 10am to 6pm. (At the Corner of 2cd Street and Haines Highway - across from the Municipal Building).

Fort William H. Seward with its old officers' headquarters, barracks buildings and parade ground, has been designated as a National Historic Site. A walking tour map of the fort is available at the Visitor Information Center. Haines Walking Tour A self guided walking tour that is 1.6 miles long.

Hiking Haines has several good day hikes. Ask at the Visitor Center for a brochure. Sheldon Museum on the waterfront corner of Front and Main streets features a private collection of Indian artifacts and early-day Haines area relics that should not be missed.