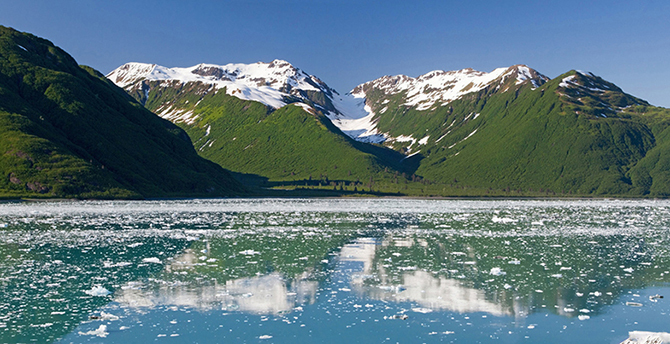 College Fjords, Alaska
College Fjord is in the northwestern part of Prince William Sound, roughly midway between Whittier and Valdez. The fjord cuts 40 kilometers into the heart of the rugged Chugach Mountains and contains five tidewater glaciers (glaciers that terminate in water), five large valley glaciers, and dozens of smaller glaciers. The fjord was named in 1898 by an expedition team that opted to give the glaciers lining College Fjord and their neighbor, Harriman Glacier, the names of Ivy League and other prominent Eastern universities — hence, Harvard, Vassar, Williams, Yale, and so on.

Some of these glaciers have retreated since the original Harriman Expedition, but not the largest of them: Harvard. Harvard is 1 1/2 miles wide, approximately 225 feet high at its terminal face, stretches below the waterline up to about 120 feet, and reaches back to the Chugach Icefield nearly 24 miles away. This giant of College fjord is slowly advancing, calving literally tons of ice into the fjord each day. These glaciers parade down, some of them 3,700 feet to the mile, from the steep mountains. No place else is there such a density of tidal glaciers.

There are often harbor seals hauled out on the ice floes in front of Harvard glacier throughout the summer. It's also not unusual to see large rafts of sea otters together, grooming their luxuriously dense fur, slipping beneath the surface to dine on crab, or simply floating with their babies nestled on their chests watching with curiosity as we pass by.

Unlike mountain glaciers, climate change is not the major influence on the advance or retreat of tidewater glaciers. Factors such as fjord depth, buoyancy, ice thickness, and iceberg calving rates influence the position of the glacier's terminus more strongly than climate does. For example, although both the Harvard and Yale Glaciers originate from the same snowfield, the Harvard Glacier has advanced over the last century, while the Yale Glacier has retreated.

FAQ: Glacier Calving

The process known as "calving" is when the mammoth glaciers shed enormous chunks of ice, making a thundering noise as it crashes into the sea. In most cases, the cascading wall of ice is several hundred years old.