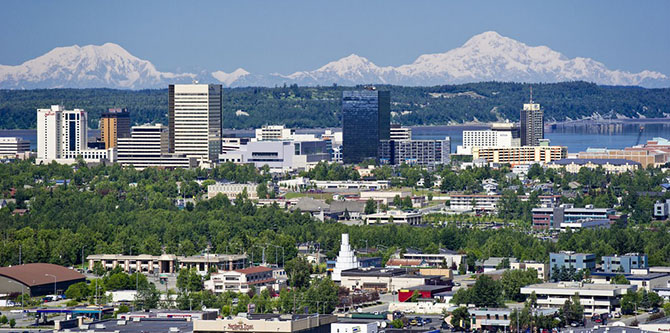 Anchorage, Alaska | The City of Lights
Anchorage is a town where you may encounter a moose while dressed in a tuxedo; where you can picnic in isolation on a glacier or where you can fish in the shadow of downtown. It's a melting pot of cultures - Eskimos and Indians who first ventured into the area 6,000 years ago, Russians who came for fur, prospectors who searched for gold and adventurers who turned a city of tents into a major cross roads for the world. It's a town of distinct looks and sounds that change with the seasonal flow. Huge migrations of birds fill the air with cackles in spring and fall, while in the mountains skiers take advantage of one of the longest seasons in the world. Days are crisp and colorful, ideal for fishing or clamming or hiking.
Winter turns Anchorage into a snowy wonderland, perfect for skiing, snowmachining, dog mushing, ice skating, ice fishing or just soaking in a hot tub as the Northern Lights dance overhead. At night, the city comes alive with theatre, art, music, dance and sports. As the days grow endless, Anchorage bursts into a medley of color, the streams are filling with returning salmon, the hillsides beckon and Beluga whale chase their dinner in Cook Inlet. This is Anchorage in the summer, bold and bright and brassy.
Anchorage is home to more than 340,000 residents, two-fifths of the entire population of Alaska, and serves as the financial, communication and transportation hub for the state. Its residents are younger, more educated, more international than those found in cities of similar size, and with 18,000 Eskimo, Indian and Aleut inhabitants, Anchorage is the largest Native village in Alaska.
Anchorage sits in a bowl at the head of historic Cook Inlet, named for the famed British explorer who searched in vain for the Northwest Passage. Rimmed on three sides by a rugged mountain range and two long arms of Cook Inlet, Anchorage stretches more than 50 miles from the fjord-studded Turnagain Arm to the southeast to a centuries-old Native village in the northeast. The municipal boundaries encompass almost 2,000 square miles, about the same size as Delaware.
The city is located as far north as Helsinki, Finland, and as far west as Honolulu, Hawaii. In flight time, Anchorage is seven hours from Tokyo, eight hours from Paris, three hours from Seattle, 5.5 hours from Chicago and less than eight hours from New York City. Anchorage International Airport is served by 30 foreign and domestic airlines with more than 150 flights each day.
You can drive to Anchorage anytime during the year over the Alaska Highway. Anchorage is 2,4603 road miles from Seattle, 3,608 miles from Los Angeles, 4.499 miles from New York City and 5,0704 miles from Miami. Anchorage is the perfect gateway to explore interior Alaska, by driving (check out our
drive packages
) or onboard the
Alaska Railroad
.
Anchorage Airport
Ted Stevens Anchorage International (ANC) is a user-friendly small-city airport, with spacious, airy concourses, few lines at check-in counters and security checkpoints, and uncrowded shops and services. A huge bonus is the upstairs gallery of Alaska Native artworks, such as carved whalebone, ceremonial masks and jewelry, in Concourse C - one of the best such exhibits anywhere. The dominant carrier, by far, is Alaska Airlines, for whom this is a major hub. Virtually all flying in Alaska goes through Anchorage, and the great majority of travel in Alaska is by air. Other carriers include Air Canada, United, Delta and American. The airport is named for former U.S. Republican Sen. Ted Stevens, longtime Alaska political powerhouse, who was convicted of misconduct in 2008 but had his conviction overturned. Wi-Fi is free throughout the airport. Concessions on the concourses are adequate, though uninspired (McDonald's, cheesy gift shops). Taxi fare to and from downtown hotels is about $25; allow 25 minutes during busy traffic times.
Getting Around
Several companies provide scheduled, charter and tour motorcoach service to Anchorage. Anchorage enjoys a moderate climate, comparable to the Coastal Northwest in the spring, summer and fall, and to Rocky Mountain resorts in the winter. Spring and summer days last more than 17 hours; winter and fall about 9.5. Anchorage receives about 15 inches of precipitation each year, main seasonal snowfall 69 inches.

Anchorage is an easy city to move around, thanks to the original grid laid out by railroad engineers in 1915. Lettered streets run north-south and numbered avenues run east-west. To find east, look for the Chugach Mountains; to find west, look for Cook Inlet.

Anchorage operates a mass transit system called the People Mover - which provides access to most visitor attractions and activities. Service is limited on weekends. The downtown Transit Center, 6th Avenue and G Street, has free informations and maps, along with a handy guide to sightseeing by bus. For information on how to get where you're going, call Rideline, 343-6543. You can ride the People Mover for free in the heart of downtown. Ask any bus driver for instructions, or call Rideline. Seven taxicab companies serve Anchorage and more than 30 companies rent cars, vans and recreational vehicles.

Accommodations range from the luxurious to the basic with more than 6,128 hotel rooms, more than 800 bed and breakfast rooms and 80 hostel rooms. Prices are comparable to those charged in major cities, with a double room averaging $107 mid-May to mid-September and $87.50 during the non-summer months. An 12 % bed tax is charged on all rental rooms. Accommodations are tight during the summer months, and advance reservations are suggested.

For those who bring their lodging with them, about 500 commercial camper spaces come equipped with full hook-ups. Prices range from $18-$25 a night. Another 500 vehicles can be accommodated at the six public campgrounds in the Anchorage area. These spots offer limited services and no hook-ups. Tents are welcome at the two municipal campground and in all state and federal campgrounds.

Two parking lots in downtown Anchorage offer parking for oversized vehicles for $5/day: the AC Couplet lot on 3rd Avenue north of the Holiday Inn, and the terminal lot near the Alaska Railroad depot. RV parking also is available at major shopping malls.

Anchorage has 300 restaurants that serve everything from gourmet to fast food to down-home cooking. Many restaurants feature Alaska seafood, including salmon, crab, halibut, shrimp, scallops, clams and oysters. The Runzheimer index ranks Anchorage food costs as similar to those charged in Atlanta, Las Vegas and Boston. Dress at most Anchorage restaurants is as formal or casual as you feel. You can buy a piece of Alaska at hundreds of stores that offer everything from iceworms in a can to exquisite ivory carvings.
Things to do
For an unusual piece of Alaskana, check out gold nugget and porcupine quill jewelry, Native baskets, mukluks, salmon leather wallets, jade and soapstone carvings, luxurious furs and a strange-looking knife called an ulu.
For a taste of Alaska, there's everything from smoked fish or Caribou Sausages to Birch Wood Syrup or Spruce Needle Jelly, washed down by some locally distilled spirits or glacier water. Two symbols assure your purchase is genuine Alaska-made. The "silver hand" means the item was hand-crafted by an Alaska Native. The "Alaska map" or "polar bear" symbol indicates the product was created by an Alaska resident.
Visitors can choose from a variety of entertainment for an evening on the town. Anchorage has 13 main stages where entertainment ranges from classics to comics to concerts, along with 35 movie screens and dozens of watering holes. The centrepiece of Anchorage nightlife is the 170,000-square-foot
Alaska Center for the Performing Arts

,
in the heart of downtown. This $75 million facility houses three theatres, including a 2,146-seat concert hall. Tours are available during the summer. Call 263-2901 for a recorded schedule of events.
Across from the center is
Egan Civic and Convention Center
- a block-long expanse of curved glass with nearly 40,000 square feet of space for conventions, meetings, trade shows and special events. In the lobby, which is open daily, are several spectacular examples of Native art, including "Eskimo Spirit Carvings" in the east seating area, "Volcano Women" sculptures in the west conversation pit and the colorful "Beaded Sky Curtain " hanging over the west escalators.
The 8,000-seat
Sullivan Arena
, at the corner of 16th Avenue and Gambell Street, is a multi-use facility complete with an Olympic-sized ice rink with an insulated floor covering for sporting events, concerts and trade shows. The arena is home to the top-ranked University of Alaska Anchorage Seawolves hockey team. Call 263-2901 for a listing of events.
Anchorage has eight museums, including the
Anchorage Museum of History & Art
which contains one of the world's most comprehensive collections of Alaskan and northern art, ranging from prehistoric to contemporary. The museum, at 121 W. 7th Avenue in downtown, presents more than 30 new exhibitions and shows each year. The museum has six permanent galleries, including the second floor Alaska Gallery which traces the evolution of Alaska's Natives and the exploration, settlement and development of modern Alaska. The museum also houses a gift shop, cafe and auditorium where Native dance troupes frequently perform during the summer. Opening hours are 9:00 am - 6:00 pm during the summer; 10:00 am - 6:00 pm Tuesday - Saturday; 1:00 pm - 5:00 pm Sunday during the rest of the year.
Other major museums in the downtown area include the
Imaginarium
, 725 W. 5th Avenue, an award-winning science discovery center targeted at children. You may receive a complete list of museums from any Visitor Information Center.
A short drive south of downtown Anchorage takes you to the
Z.J. Loussac Public Library

,
36th Avenue and Denali, a dynamic blend of cylindrical shapes and geometric forms that features a special Alaska section, auditorium and municipal assembly meeting chambers. On the library's lawns stands an elegant ice fountain designed by Carl Nesjar that produces spectacular frozen formations in the winter.
Anchorage's two universities sit next door to one another, joined by paths for bikers and skiers.
Alaska Pacific University
, 4101 University Drive, is rated as one of the nation's top liberal arts universities in the region. Its Atwood Center is listed on the National Register of Historic Places. The University of Alaska Anchorage, 3211 Providence Dr., has the largest campus and the biggest enrolment in the state university system. Art shows, drama and music performances are held throughout the year, as are sports competitions that feature the Seawolves, the university's team name.
Anchorage has activities to keep you amused and entertained every month of the year. Check with any Visitor Information Center or our
activity page
. Editors note: A complete listing of all of the Visitor Info Centers and their phone numbers follows this section.
History
Anchorage's roots date back to about 4,000 BC when descendants of the first people to cross the land bridge that connected Siberia to Alaska reached the area, establishing fishing and hunting camps. One expert believes that occupation of the Upper Inlet began by Athapascans, with Eskimos arriving about 1 B.C. and remaining through 1500 A.D. Eklutna, an Athabascan Indian village on the northeast corner of Anchorage, has been continually inhabited for 1,000 years. Point Woronzof, near the airport, was the site of a decisive battle between Pacific Eskimos and Tanaina Indians in approximately 1650 at which time the Tanaina established dominance of the Knik Arm area. The main settlement was called "Eydlughet" or "Ikluat," and used only in winter.
In the mid-1700's, Russian trappers and hunters arrived, followed in 1778 by Capt. James Cook on his third and final voyage. The discovery of gold at Crow Creek, just 40 miles south of downtown Anchorage, sparked a rush that lasted into the 20th century. But it was coal, and later oil, that turned a sleepy settlement into a bustling town. Construction began in 1914 on a federal railroad from the port of Seward, 126 miles south of Anchorage, through the coal fields of Interior Alaska, to the gold claims near Fairbanks, 358 miles to the north.
The midpoint construction headquarters was Anchorage, and by July of 1915, thousands of job seekers and opportunists had poured into the area, living in a tent city on the banks of Ship Creek near the edge of the present downtown. That July produced the "Great Anchorage Lot Sale," a land auction that shaped the future of the city. Some 655 lots were sold for $148,000 or an average of $225 each. A month later, the town voted to call itself Alaska City, but the Federal government refused to change its name from Anchorage.
The first train from Seward steamed into Anchorage in 1918, but it would take five more years of construction before President Warren G. Harding arrived to drive the golden spike that signalled the completion of the line. The railroad remained in federal hands until 1985 when it was sold to the State of Alaska. Today the Alaska Railroad serves an important transportation link through what is called the Railbelt of Alaska. Passenger service is provided to Denali National Park, Fairbanks, Seward and the community of Whittier. (Call 907-265-2494 for information).
The railroad connects into the state ferry system at Seward and Whittier. World War II brought a period of unprecedented growth to the Anchorage area. When the Japanese invaded American soil in the Aleutian Islands, Anchorage became so strategically important that the military built a large Army post called Ft. Richardson and an air field that became
Elmendorf Air Force Base
. To link these military installations with the rest of the nation, the Alaska Highway was pushed through in less than nine months, an engineering feat that ranks as one of this century's greatest. Anchorage entered the war years with a population of 7,724 and emerged with 43,314. The military remains an important part of life in Anchorage, creating about 16,000 jobs. Today Richardson is headquarters for U.S. Army Alaska and Elmendorf houses F-15s. Both installations have interesting wildlife museums and 18-hole golf courses open to the public. Visitors can take a self-guided tour of Richardson and visit the fish hatchery, national cemetery, museum and golf course. Ask for pass at the gatehouse.
On Good Friday, 1964, a massive earthquake measuring 9.2 on the Richter Scale ripped through Southcentral Alaska. It was the largest tremor ever recorded in North America, releasing 80 times the energy of the historic San Francisco quake of 1906. The massive shock and seismic waves killed 131 people in Alaska and the upper Pacific coast. Thousands of people lost their homes and businesses as entire blocks crumbled and a subdivision fell into the sea. Residents re-bounded in record time, and within a year, Anchorage's first high-rise hotel started reshaping the skyline. The story of the Good Friday earthquake is recounted in interpretative displays at Earthquake Park near the airport.
Oil fuelled a modern-day boom with the discovery and development of the Prudhoe Bay oil field, the largest in North America On June 20, 1977, Prudhoe Bay oil started flowing through the $8 billion trans-Alaska pipeline, and today, with the development of other North Slope oil fields, just under two million barrels a day flow south to the pipeline's terminus at Valdez. Info on Anchorage's past and present is available at the Visitor Information Centers operated by the Anchorage Convention & Visitors Bureau, and at the Alaska Public Lands Info Center, corner of 4th Avenue and F Street.
The Travel Season
June - August:
Anchorage is the hub for almost all Alaska travel three months a year, from approximately June 15 to Sept. 15. More than half the city's roughly 1 million visitors arrive during this period, which offers usually reliable weather (daytime highs in the low 70s, partly sunny weather interspersed with periods of scattered showers). Summer-season travelers will find
very high hotel and rental-car rates
(more than twice those of October and April), troops of retirees strolling the downtown streets, and buses of cruise passengers extending their voyages onshore. On the plus side, in June and early July, the light hardly fades—you can schedule a long bike ride after dinner if you like, and it's possible to wind up a golf game at midnight.
October - April:
Winter can be a delightful time to visit Anchorage, particularly late February through mid-April, when the sun returns from the low horizon, the ski-tracks are long set on the city's trails, the skiing is best at Alyeska, and prices, crowds and tour-bus tomfoolery are at their lowest. (Exceptions are the Fur Rendezvous in February, and Iditarod Trail Race in early March.) Although Alaska is famously fearsomely cold, this rap is overstated - in Anchorage, a cold day in March is likely 10-25 degrees, and visitors may encounter extended periods of sunny weather. Yes, you can see
northern lights in Anchorage
(though Fairbanks is a better bet) and the Chugach and Kenai Mountains never look so glorious as when lit by late-afternoon winter sun. As for December and early January - Alaskans go to Hawaii.
Mid April - Mid June | Labor Day - October 15: Things get interesting in Anchorage in these two bracket periods. Will it freeze in September, or be sunny and warm? Will Alyeska still be open in May so energetic types can ski, fish and golf all in the same day? Both months bring cruise and tour-bus crowds into town periodically; rates adjust downward; salmon shows up in local restaurants in May and holds through October - pretty much the same as decent weather.
Website

Statistic
Users

4

Articles

266

Articles View Hits

32339