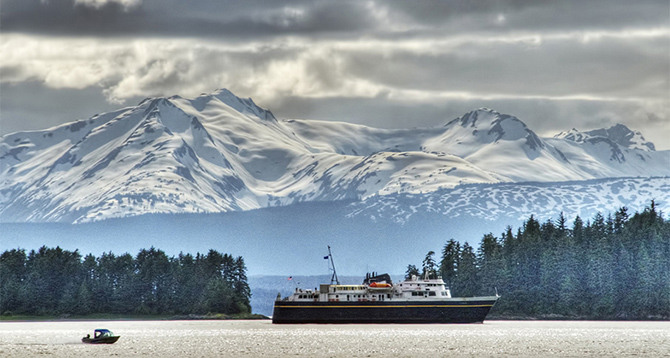 FAQ | Alaska Cruise Tours
Alaska Inside Passage Cruise Tours and Alaska Backcountry Softadventure Cruises with Small Cruise Ships. Gulf of Alaska Ferry Schedule and Sailings from Go Alaska Tours
Q:

Which Types of Alaska Cruises are Available
The majority of cruises offered by the larger cruise companies such as Princess, Celebrity, Norwegian, Holland America and its competitors are 8 days in length. Thus, some 10/14-day sailings are available which include more port of calls and/or intensive glacier (adventure) cruising. Basically you have the following 4 different cruise options:
1.)
One Way Weekly Departures on Large Cruise Ships:
Routing Vancouver - Anchorage or Anchorage – Vancouver from May – September
2.)
Return Weekly Departures on Large Cruise Ships:

Routing Vancouver – Vancouver or Seattle – Seattle from May - September
3.)
Adventure and/or
Private Yacht Cruises:

On chartered yachts with up to 12 passengers from May - September
4.)
Adventure Cruises on Small Cruise Ships:

On ships with +/- 100 passengers departing from Southeast Alaska'n Ports such as
Juneau, Ketchikan and Sitka from May – September
The routing varies just slightly from one cruise line to another. The cruise ships are scheduled to sail either from/to Vancouver or from and to Seattle - whereas others are on one-way trips between Seattle and Vancouver to Whittier or Seward – just 40 or 120 Road Miles south of Alaska's largest city - Anchorage.

The very scenic Southeast Alaska Glacier areas such as Glacier Bay, Tracy Arm Fjords or Hubbard Glacier are included in every schedule. If you consider booking a one-way trip you may be able to visit also Alaska's Interior destinations such as Denali National Park, Katmai and Fairbanks
Q:

Casual or Formal Dress Codes

Outside:
The key word for dressing for an Alaska Cruise is "Layering." Casual sportswear including windbreakers, pants and jogging suits are well suited at both sea and ashore in Alaska. Remember to bring a sweater or jacket for cool evenings. The weather is unpredictable and you should plan on bringing a rain resistant jacket for shore side activities. Light gloves, a hat or visor and sunglasses are also recommended. You'll also want comfortable walking shoes and sandals with a rubber sole as you explore the shores of Alaska.
Inside:
Alaska Cruises tend to be more casual than other destination. However, many of the contemporary cruise lines still observe formal nights and resort-casual nights Alaska cruises. Smart Casual is similar to what you would wear at home going out to dine at nice restaurant and can include skirts/dresses, slacks, sweaters and blouses for ladies and pants and open neck shirts for men. A jacket and tie are optional. In the dining area, items such as cutoff t-shirts, halter-tops and torn jeans are not permitted.
Evenings:
In the evening, ships vary as to dress. As on shore, attire is dictated by occasion. For the Captain's Gala, for example, you'll probably want to wear something more formal, such as a dark suit, or cocktail dress; perhaps even a dinner jacket or gown. Our 7-Day cruises feature 1-2 formal evenings during the cruise. Note: it is possible to rent formal attire on some cruise ships.
Q:

Which Types of Alaska Cruises are Available
Daytime average temperatures help you plan for your cruise vacation. Alaska has a very short visitor season and during the high Season in July/August tour space is very limited. We highly recommend cruising during May and June (with up to 21 daylight hours) or during the month of September (beautiful Fall Colors and Aurora Viewing) Generally: the weather conditions within Alaska are characterized by large temperature differences and are varying regionally and on a day-by-day basis. Please check the
>> Alaska National Weather Service Website
for current and historical weather data for all cruise ports in Alaska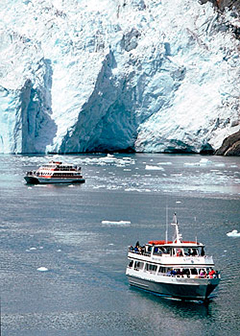 Wildlife viewing is generally good during May/June and September because larger mammals such as Moose and Grizzly Bears are feeding in lower elevations. July/August are prime Brown - and Grizzly Bear viewing months (Kodiak Island, Katmai, Coastal Regions) because bears are feeding on salmon. For detailed information on Alaska's wildlife viewing areas and for seasonal information please refer to our websites.
Q:

Which Types of Alaska Cruises are Available
This is one of the most common questions ask of our agents. While we can understand that one may think that the right side of the ship (starboard side) is better for scenery on a Northbound cruise and the left side (port side) better on a Southbound cruise but this isn't true. When cruising the Inside Passage, there is scenery on both sides of the ship and when you are entering the fjords in Alaska, the viewing will be equally good from both sides of the ship over the duration of your cruise vacation. In other words, during your cruise, you'll see scenery from both sides of the vessel.
Q:

Which Types of Alaska Cruises are Available
Stateroom Features: Most cruise lines are providing the following: Safe, Refrigerator, 110-Volt Outlets with US Plugs Fittings, TV with Multi-Channel Programming (CNN, TNT, Turner Classics etc.), Phone, CD/DVD Player and access to a Library, Closet, Room Service, Evening Turn-Down Service, Mini Bar Packages, Wireless Internet Access, Bathroom with an amenity basket. The amenities are subject to change and are only sample sizes. The basket may include such things as: razors; shampoo and conditioner; body wash; Tylenol; deodorant; hard candies. Services may vary by cruise lines. For stateroom sizes/locations please refer to details within the info center area.
Stateroom Rates: to provide you with an easy rate overview/comparision we decided to list only cabin categories instead of a combination of deck/cabin categories. Why choose between a myriad of rates for cabins on different decks and locations. We make it very simple for you: Please inform us about your references and we will book the desired cabin on the best available deck for you.
Q:

Which Types of Alaska Cruises are Available
These cruise guests would rather watch for whales than spend the afternoon in a casino. They linger outside on deck and observing the wildlife, rather than watching a video. On a small ship, the focus is outside where nature provides the entertainment. You are not just a visitor - you are participating in adventures such as kayaking off a remote wilderness island, hiking in a rainforest or enjoying spectacular glacier viewing. Each small-ship cruise is an engaging experience for all your senses. The casual style on board all our vessels encourages relaxation and congenial interaction between guests and crew alike. And the experience is personally enriching, through on-board narrative and lectures, special local guests from a wide variety of backgrounds, and the library provided on each vessel. In many of the remote waterways visited, small ships are the only way to explore the area. We leave the wider shipping lanes for the large ocean liner and we use channels just a few hundred feet wide, tieing up to inner piers in tiny villages, and share waterways with local fishermen and perhaps a few private yachts. Some of their ships have bow ladders for shore access. Many carry inflatable excursion craft to take you to where the action is.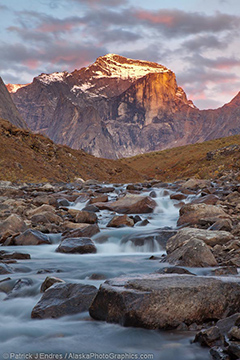 When you visit a small port in Alaska's Inside Passage they aren't overwhelmed in local communities or crowded nature trails. In fact, the largest vessel hosts just 114 guests. And in the small ports visted, excellent relationships have been nourished with the local innkeepers, port directors, and local storytellers. That means everywhere you travel, you have entrée to the very best experiences that each community can offer. And in every destination, at least one shore excursion or highlight is included in each port of call, to further encourage your active involvement.
Q:

Which Types of Alaska Cruises are Available
During your cruise, you will meet many members of our staff in a variety of locations as they provide you with excellent service. Additionally, many more crew behind the scenes are supporting those who serve you directly. For your convenience a Hotel and Dining charge of $10.00 per passenger per day (including children) will be automatically added to your shipboard account on a daily basis. The Hotel and Dining charge will be shared amongst those staff who help provide and support your cruise experience, including the wait staff, stateroom stewards and accommodations staff, buffet stewards, galley staff, laundry staff and others.
Please note
: This is a discretionary charge and should you wish to remove or make any adjustments, you may do so by contacting the Purser's Reception desk onboard. Casino dealers and Spa personnel do not share in the Hotel and Dining charge as not all passengers utilize these services. A 15% service charge is automatically added to your bar charges and dining room wine account. This is shared amongst the beverage staff and their support staff, including cleaners and utility staff.
Q:

Which Types of Alaska Cruises are Available
Canadian and U.S. Citizens must show proper proof of citizenship to Canada Border Services Agency officers (valid for all departures from/to Vancouver), including but not limited to: Passport, or Government-issued photo ID and original copy of birth certificate. All Other Overseas Passengers must show a valid passport and, if required, other documents such as a Visa etc. For more information, please refer to the Canada Border Services Agency or to the US Customs sites. The requirement to possess a valid Passport for all U.S. citizens who travel by sea or land to and from the Caribbean, Bermuda, Central and South America, Canada and Mexico has been extended to June 1, 2009. However, the government can accelerate this date based on meeting certain standards. All US Citizen traveling by air must possess a valid passport from January 08.2007 onwards. We urge these passengers to visit the U.S. Department of State's website to read about these issues.
Q:

Which Types of Alaska Cruises are Available
Canada Place
is located within the downtown area at 999 Canada Place in Vancouver.
Ballantyne Terminal
is located at 655 Centennial Road, east of the Vancouver City Centre. The cost for taxi service from the airport is approximately CAD$35.00 Travellers to Ballantyne have access to Ballantyne Cruise Terminal via Clark Drive or McGill Street Overpass only. There is no access to travellers via Victoria Drive and Heatley Avenue. It takes about 45-60 minutes to get to both cruise terminals from the airport.
Q:

Which Types of Alaska Cruises are Available
We provide scheduled
Motorcoach and Van Transfer Service
,
Alaska Railroad Transportation
,
Rental Cars
or Private Transfers for individuals and groups from Anchorage to the terminals in Whittier (appr. 40 Miles South of Anchorage) and Seward (appr. 120 Miles South of Anchorage). Please calculate with at least 2 hours of transfer time for all Whittier departures and about 4 hours for all Seward departures. Rates are ranging from $25.00 – $70.00 per person.
Please Note:
we do not offer any transfer services for clients cruise passages booked through other agencies.
Q:

Which Types of Alaska Cruises are Available
Norwegian Cruise Line will depart from the

Bell Street Pier Cruise Terminal at Pier 66

. Holland America Line and Princess Cruises will depart at the

Terminal 30 Cruise

Facility. Both terminals are conveniently located on Seattle's downtown waterfront. Taxi transfers from the Seattle/Tacoma Airport are approximately US$30.00
Q:

Which Types of Alaska Cruises are Available
Passengers who are driving should arrive at the pier two or three hours prior to sailing. For your own convenience, please do not arrive earlier as boarding will not have commenced. For sailings from Vancouver, you may obtain information and parking rates by calling: 800-665-0050.
Q: What is the best time to Cruise Alaska
Anytime between May and September is a good time to go to Alaska, but there are better times in the season to travel if you have a specific interest or motivation. For example, if you're interested in saving money, then the shoulder seasons of May and September are the best times to go. If you are traveling with children, you may be limited to mid-June through mid-August. Spring is a great time to see the wildflowers in full bloom and Alaska's Fall foliage is a sight to see as well. Your warmest and longest days will be in June and July and will offer you plenty of opportunities to enjoy active, calving glaciers. Each month has its benefits. You should plan to travel when it best meets your schedule and budget.
Q: How about Taxes in Alaska
A proposed Alaska cruise-passenger head tax has qualified for a ballot. The proposal calls for a $50 head tax on all cruise ship passengers, and a 33 percent cruise gaming tax. The petition was filed with reportedly 29,000 signatures, more than the 23,285 required for the state to consider such a petition. The cruise lines currently serving Alaska are expected to vigorously lobby against the proposal, as they have done in the past via their North West Cruiseship Ass, which sees higher cruise fares and fewer Alaska cruisers negatively impacting Alaska's tourism-focused businesses. Cruise industry analyst Robin Farley of UBS Warburg ... questions the validity of the gaming requirement; since cruise ship gaming occurs only in international waters, Farley believes there are problems with legally enforcing any approved gaming tax.
Q: How about Group Travel
For Groups from 25-50 (or more), we are able to provide professional escorts, who take care of all your group needs at sea. They make sure your staterooms are in order. They provide coordination with the ship's staff for all meeting facilities, making sure they are set-up and prepared for you. They can arrange special land excursions, day trips, adventure tours and private visits to the Vessels Galley and Bridge
Q: Alcoholic Beverage Policy
We kindly request that you do not bring your own alcoholic beverages (other than wine and/or champagne) onboard for consumption. Alcoholic beverages that are purchased duty free from the ship's gift shop or at ports of call will be collected for safekeeping and delivered to your stateroom on the last day of the voyage. A member of our Security Staff will be at the gangway to assist with the storage of your alcoholic beverage purchases.

Remember:

The legal drinking age of 21 years for US Citizen is always observed onboard and proof of age may be required. All onboard staff are trained to take seriously their responsibility to not serve alcohol to underage passengers. The age restrictions are clearly posted in the bars.
Q: How about Onboard Services
A variety of boutiques are offering fragrances, cosmetics, jewelery, gifts, apparel, accessories and liquor. In addition you may expect Library, Internet café, Tour Office (please compare our rates prior to making a reservation), Spa, Golf Simulator, Dining Rooms, Theatre, Cinema, Pool, Sauna, Steam Bath, Weight and Aerobic Rooms, Massage Therapy and more…Evening entertainment consists of: nightly shows, cocktail hours, casino exitement, discothek etc.
Q: Laundry & Dry Cleaning
Each ship has at least 2 self-service launderettes located on the stateroom decks. There are two or three washers and dryers, and one iron and ironing board in each launderette. The cost is approx $2.00 per washer load and approx. $2.00 per dryer load. Vending machines dispense small boxes of detergent and water softener at approx. $1.00 per box. Note: Due to local environmental requirements, the washing machines in the guest' launderette will be closed in port, per each ports specific requirements; the dryers and irons will be available for guest use. Dry cleaning service is readily available at a nominal charge.
Q: What is included in the Fare
1.) Food - 3 Meals or more per day plus Room Service
2.) Regular Drinks such as Coffee, Tea, Juice, Lemonade
3.) Entertainment
4.) Use of the Cruise Ship Facilities
5.) Accommodation of your choice.
Q: What is not included in the Fare
1.) Gratuities
2.) Alcoholic Beverages
3.) Shore Excursions
4.) Personal Items
5.) Spa or Beauty Treatments
6.) Travel Insurance
7.) Personal Items
8.) Port Transfers
9.) A small fee may apply for onboard Gourmet Dining Experiences.

Q: How about Onboard Payments
For your convenience most cruise ships set-up a stateroom account when you check-in. Similar to a hotel, everything you purchase onboard will be charged to this account and at the end of your cruise the account can be settled by credit card, travelers cheque's or cash.
Q: How about Embarking/Disembarking
Express checkout features are available on every vessel. Please provide a credit card upon check in and you have to sign only your final bill for any incidential charges on the last evening of the journey. The crew provides you with disembarkation letter and luggage tags. Please pack your bags on the last evening and place them outside your stateroom door to facilitate custom clearance and disembarkation. Passengers may not leave the ship until the entire luggage is off-loaded.
Q: Which Stateroom Category should I Reserve?
We always recommend reserving a large stateroom with a balcony/verandah or even a suite. (If your travel budget permits it) When you travel along the Inside Passage you have a ever changing view of mountains, glaciers, remote waterfront communities and wildlife. Balconies are providing also a great opportunity to get away from the crowds and you enjoy great views from the privacy of your own deck. Another advantage are the floor-to-ceiling windows which makes a stateroom even bigger looking.
You will have plenty of opportunities to fish for a variety of Salmon & Halibut. Great fishing spots are around Ketchikan and Juneau, or you may decide to take a floatplane to a remote lake or river to fish. Cost of excursions vary. Please refer to our sightseeing sections.
Q: Casino Access Age Restriction
Entry into the disco is limited to passengers 18 years and older. Be sure to check with the child and teen centers, however, for special disco events designed just for kids. Children under the age of 18 are welcome in the gymnasium, spa and jacuzzi; and also in the evening entertainment show lounges when accompanied by a parent or guardian. In line with domestic age limits the casino is reserved for passengers 21 years and older. Additionally, only those passengers 21 years and older will be allowed to purchase or consume alcohol. For those whose age is questionable, picture identification may be requested.
Please check also our other online information resources and compare different cruise line features, view onboard images, staterooms and more.