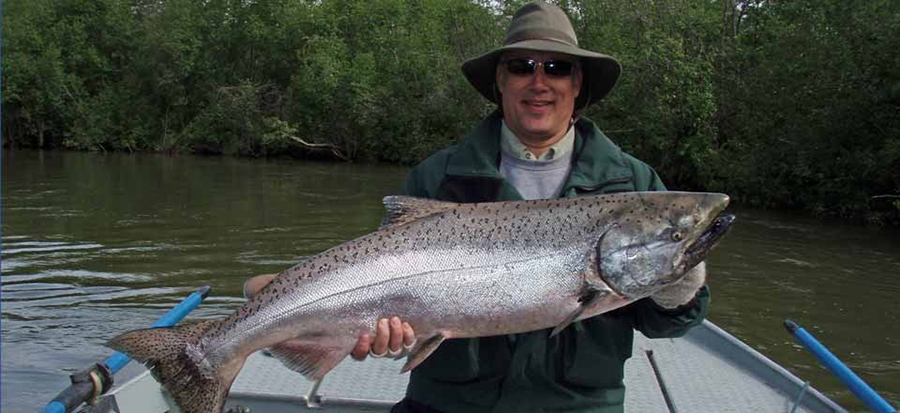 The Gulkana River is a beautiful winding river. Its headwaters are just a little stream that exits Copper Lake in the Wrangell Mountains and travels over 300 miles to tidewater at Cordova. At tidewater, the Copper River Delta is over five miles across and teaming with our famous Copper River Reds and Kings. The word, "Gulkana" is an Athabascan native work meaning winding river. It covers about three river miles for every mile on the highway.
On our five-hour charters we fish 5 to 6 miles of the river. On our ten-hour charters we can extend that up to 23 miles of the river. As you may know, Copper River Salmon are considered by many to be the most prized and best tasting salmon in the world. The reason for this is that these fish have a slightly higher fat content in their meat and, like a good steak; the extra fat produces a brighter taste. If the opportunity presents itself, do a comparison taste test with any other salmon. It will quickly show what so many people have learned - Copper River Salmon (Kings and Reds) are the top of the line. Oftentimes, various kinds of Alaska wildlife such as Caribou, Black and Brown Bear, Moose, Beaver, Otter, a myriad of water fowl and a couple of dozen Bald Eagles are seen and are enjoyed up close and personal.
Beginning in early June, Copper River Salmon Charters offers five-hour and ten-hour guided raft trips fishing for the famous Copper River King Salmon (Chinook) and Red Salmon (Sockeye) in the beautiful Gulkana River. Half-day and Full-day Charters: With up to three trips daily, the Copper River Salmon Charters will outfit every client with all the essentials including your own fully insured and permitted professional guide and rafts, all tackle, boots and PFD's. For your nourishment, we carry snacks and beverages for the five-hour charters. We carry sack lunches, snacks and beverages for the ten-hour trips. (No alcoholic beverages, please!) Of course, some days anglers will limit out and some days fishing can be challenging. I cannot guarantee your catch but I can guarantee that our guides will do all they can to provide an exciting and eventful day as they put our guests in the middle of them.
5-Hour Morning Charter Leave: 7:00 am - Return: 12:00 pm $ 240.00
5-Hour Afternoon Charter Leave: 1:00 pm - Return: 6:00 pm $ 240.00
10-Hour Charters from 7:00 am - 5:00 pm $ 340.00