Designers have once again raised the standard by which all others will be measured. This is the latest in North American charter and touring coaches, with seating for up to 54 passengers. The exclusive patented spiral stairway serves a dual purpose. It eases passenger entry and departure. Large enclosed parcel racks increase passengers comfort and safety, as all carry-on items can be stored and secured overhead... out of the way, yet within easy reach. Compact, easy-to-use environmental controls allow passengers fingertip-access to desired lighting & air circulation. Other amenities include: Foot Rests, VHS Video Systems, AM/FM Stereo & PA Systems, Window Shades, Card Tables, Comfortable Reclining Seat Backs, Air Conditioning and Clean Sanitary Restrooms. Amenities include: • Air Conditioning • Comfortable Extra-Wide Seats • Foot Rests • AM/FM Stereo & PA Systems • VHS Video Systems • Window Shades • Card & Game Tables • Restrooms. Ideal for the following: small to medium size groups, clubs, group of friends or family reunions.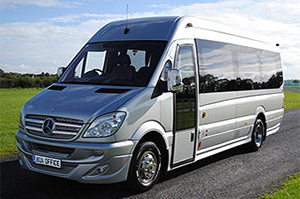 Mini Coach features include: luggage storage, VCR and monitor, PA sound system, climate control, motorcoach style seating, large viewing windows. Ideal for: airport shuttles, team transfers, school field trips, one day outings, medium size groups 20 - 25 in size, short distance travel, wedding party transfers, corporate meeting shuttle, convention shuttles, youth groups. This coach was developed to meet the needs of 20 to 36 passenger groups, and still provide the comfort and amenities of our larger coaches. These coaches are equipped with the following amenities: • Foot Rests • Enclosed Overhead Parcel Racks • Comfortable Reclining Seats • Air Conditioning • AM/FM Stereo & PA Systems • VHS Video Systems • Clean Sanitary Restrooms
Individual Alaska Tour Planning Services
We have planned many tours for individual groups from 6-100 people, family reunion, individual travelers, travel agencies and international tour operator throughout Alaska and Northern Canada. Our experienced Alaska tour planners may design a exciting tour for your customers to match their interests and requirements.

Routing and Itinerary Suggestions
Step on Guide Service (multible languages available)
Hotel Reservation, choose your preferred category from budget to first class
20 - 56 Passenger Motorcoaches / Deluxe Vans
European or American Meal Plan option
Attractions, Sightseeing Tours or outdoor Adventures
Professional Information Flyers and Tour Documentations
Special Interest (History, Shopping, Factory Tours, Festivals, Dinner Shows, Concerts)
Local Educational Programs