Katmai National Park: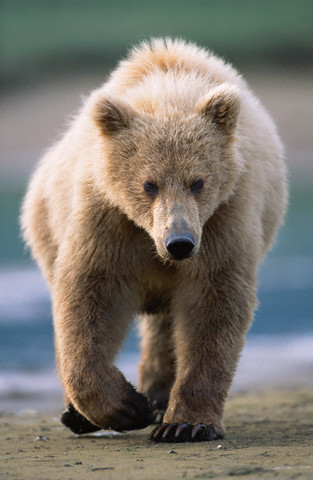 Located in southwestern Alaska, Brooks Falls is one of the best places in the world to observe brown bears. The bears and humans have been peacefully coexisting at Brooks Camp for over 30 years. There are three viewing stands set up for viewing the bears while they fish for salmon at the Brooks waterfall. However, you commonly run into bears on the trails to the observing stands and campground. The bears have learned that they can trust humans in Katmai so they pretty much pay no attention to humans and simply go about their business of non-stop eating. Katmai has the largest concentration of protected brown bears in the world and there are roughly 2,000 brown bears in the 3.6 million acre park. Unlike many other bear viewing locations in the world, the bears at Brooks Camp are protected from the grossness of sport hunters so most are not scared of humans. They are not aggressive to humans either. Brooks Camp is one of the finest examples in the world of peaceful human- and animal coexistence. It has almost a utopian feel to it. It's such a fun and exciting place to be with everyone excited about bears. The lodge has a bar, excellent food, and an indoor fire that people sit around while talking about bears and photography. Best time to visit is in July or early September. Overall, the world can learn a lot from Brooks and the national park service does an excellent job managing the camp.
You have several options for visiting Brooks. One option is to do a day trip; however, we strongly advise against it because between weather, flight delays, and bear jams (i.e. the bears frequently decide to take naps on the trail and you have to wait until they wake up) you may never even make it down to the actual falls (although I found getting to the falls to actually be more exciting than being at the falls). Also, once you see a few of these amazing bears you won't ever want to leave. If you do decide to overnight you have the option to stay in the lodge cabins (privately owned) but there are only a few so they're very difficult to actually get one. (they must be reserved at least one year in advance)


FAQ: Expert Travel Advise:
How to Get There

From Anchorage, scheduled jets fly the 290 miles to King Salmon, park headquarters; from there, June to mid-September, daily floatplanes fly the last 33 miles to Brooks Camp, site of a summer visitor center and the center of activity. Air charters can be arranged into other areas. You can drive the 9 miles from King Salmon to Lake Camp, at the western end of the park on the Naknek River, then go by boat to Brooks Camp, the Bay of Islands, and other areas of Naknek Lake.

When to Go

June to early September. Only then, with transportation from between Brooks Camp and the Valley of Ten Thousand Smokes, are the lodges, cabins, and Brooks Camp Campground open. Bear watching, an increasingly popular pastime, is best in July when the sockeye salmon spawn (bear watching suffers a brief lull in June and again in August). Fishing and hiking are good throughout summer, but come prepared for rain. Heavy snowpack may remain in the upper elevations into July. Summer daytime temperatures range from the mid-50s to mid-60s; the average low is 44°F.

How to Visit

If your time is short, get to Brooks Camp. People, fish, bears, boats, and planes concentrate here. Compared to the rest of the park, it's crowded. But the lodge and campground are comfortable (reservations required) and the bear viewing unforgettable. You'll find good hiking and fishing. If at all possible, take the bus or van tour 23 miles out from Brooks Camp to the Valley of Ten Thousand Smokes. Return the same day or hike into the valley and camp. You can extend your stay by boating or flying to the many other lakes, streams, rivers, and lodges in the park. Pick your area, make a safe plan, and go.

Brooks River Bear Viewing

A trail from Brooks River Lodge, about a quarter mile long, leads to a floating bridge across the Brooks River. After crossing the river, an elevated viewing stand is available for watching bears in this popular area where the river empties into Naknek Lake. Bears often approach the bridge from both land and water. If it appears that a single bear will approach within 50 yards, or a sow with cubs within 100 yards, a ranger stationed on the viewing stand will direct everyone to get off the bridge and onto the viewing stand, or to return to the trail to the lodge. Another ranger is normally stationed on the trail to prevent people from the lodge walking to the bridge when a bear is present. The gates at each end of the bridge do not keep adult bears off the bridge, but probably do keep small cubs from getting separated from their moms. A smaller gate is at the viewing stand entrance. The bridge area of the river is a popular fishing spot, and many large salmon are caught there daily. The fishermen must also move to the viewing stand if a bear approaches. If a fish is hooked and a bear approaches, the angler must break their line immediately and not land the fish. The bridge is a popular place to watch the salmon swim through the shallow water,

About 200 meters beyond the Riffle platform is the Falls viewing platform. This platform is often crowded, as shown here, and a ranger will limit the time an individual spends on the platform to about an hour during the crowded times. Crowding starts about 10 AM, and ends at mid afternoon. Each morning several floatplanes arrive with visitors that make a mid-day visit and then leave. I am guessing that 20 to 30 of these mid-day visitors arrive each day, but there could be more. About 15 people can comfortably watch bears at one time from the two levels of the Falls platform. About 20 people make it crowded. There is a covered seating area where the Riffle platform walkway joins the Falls walkway where bear watchers can wait a turn on the Falls platform. There are no toilet facilities except at the lodge.

The falls is the place everyone goes to see bears. This is the place where bears at the top of the falls catch salmon in midair as they attempt to jump up the falls to reach their spawning area. This is also the place where large males are present. Smaller males, like the light colored one at above right, keep away from the larger males. Several bears have favorite places, and they all seem to know their pecking order. At times one bear would approach another that had a fish, and the one with the fish would would either drop it, or quickly leave the water with it. Leaving the water did not always prevent the other bear from following and taking the fish, but it sometimes did.

Wildlife Photography

A few suggestions to help clients preparing for wildlife photography adventures. While we all don't have the luxury of owning a super-telephoto lens of 500mm or greater, that's not a problem in most Alaska bear viewing areas. Here is a packing list to maximize your photographic flexibility while experiencing the great outdoors within Lake Clark - and Katmai National Park.

SLR Camera body
If you have a super-telephoto nothing larger than 500mm, you'll miss too many shots because you're just too close!
A 1.4 tele-convertor, a 2x will eat too much light.
The best overall lens for the bears will be a 100-400mm for Canon or a 200-400mm for Nikon.
A good substitute if you don't have either of these is something in the 75-300mm zoom range.
Wide angle zoom lens
Macro lens and extension tubes
Sturdy tripod w/ball or gimbal-style head
Rain gear for your camera and lenses. In a pinch trash bags work.
Gear bag, backpack style work well
Flash or SD memory cards•

Bear Facts
Male Brown Bears weigh 300 – 850 lbs

Female Brown Bears weigh 200 – 400 lbs

Bears usually live 20 – 25 years

Brown Bears can run up to 35 mph
Good to know if you visit Brooks Lodge
Meals are rather expensive at Brooks Lodge: Breakfast $17.00, Lunch $22.00, Dinner $35.00 (based on 2014 Information) Outdoor Clothing: Warm Jacket or Sweater, Personal Items, Walking Shoes or Boots, Sunglasses, Raincoat, Camera & Memory Cards, Long Sleeve Shirts, Mosquito Repellent should be kept with Scarf, Hat or Cap during your travel. The atmosphere at the lodge is casual, so bring comfortable medium weight sport clothes. By dressing in layers, you can add or subtract clothing and be comfortable regardless of the whim of the weather. Internet services are not available at the lodge. Trading Post Shop: The trading post offers a variety of items to purchase. Candy, freeze dried foods, soft drinks, and other snack items (trail mix, beef jerky, etc.). Personal items such as: Toothpaste, insect repellent, soap, film (no memory cards available), batteries and tobacco. Fishing items such as Line, leader, lures, flies and Alaska fishing license. You may also rent: Rods & reels, chest waders, canoes, kayaks, single burner stoves, bear resistant containers and showers and towels (for campers).
Weather Conditions
Be prepared for stormy weather and sometimes sunshine. Summer daytime temperatures range from about mid- 50's to mid-60's degree F; the average low is 44. Strong winds and sudden gusts frequently sweep the area. Skies are clear about 20% of the summer. Light rain can last for days.
>> Current Weather Conditions at Kamai National Park
Return to Wildlife Viewing >>